December 05, 2009 07:32 PM CET
PC Joker - Ausgabe 4/2003 (Erstausgabe)
Media Verlag
Autor:

LTC2

.
4158 Gelesen
PC Joker 04/2003 Team Bewertung:
>Test:
Blitzkrieg
Böse Nachbarn
Cold Zero
DTM Race Driver
Freelancer
Elexier
I.G.I 2
IL2 Sturmovik
Impossible Creatures
Metal Gear Solid 2 Substance
Nascar Racing 2003
Pretorians
Rainbow Six: Raven Shield
Rayman 3
Rotlicht Tycoon
Shadow of Memories
Silent Hill 2 Directors Cut
Sim City 4
Ski Park Manager
Splinter Cell
Unreal 2:The Awakening
Virtual Skipper 3

Previews & Specials:
Casino
Crime Investigation
Empires:Die Neuzeit
Enclave
Enter The Matrix
Indiana Jones & die Legende der Kaisergruft
Rise of Nations
Will Rock
World of Warcraft/Frozen Throne
Vivendi Spring Fair 2003
Special: Online-Rollenspiele
Special: Spiele aus Fernost

Lösungen:
Splinter Cell
Impossible Creatures

Inhalt CD:
10 Vollversionen (Knights & Merchants, Oil Tycoon, Clusterball, Mahjongg, etc.)


Ausgabe in Noten: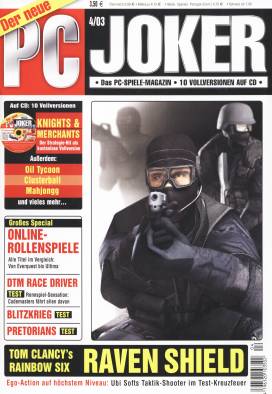 Cover: 3
Übersichtlichkeit: 2
Test, Previews, Specials: 3
CD-Rom: 4
Karrikatur: -
Verbesserrungen: -
Sonstiges 4
Insgesamt: 3
Pro und Contra:
+ Erstausgabe
+ gute Ansätze
+ intressante Specials
- viele Rechtschreibfehler
- keine Teamvorstellung
- grausiger Joker
- nicht sehr gelungenes Design
Meinung von Sebhe:
Natürlich war es für die meisten wie ein Fest, dass der PC Joker jetzt doch weiter geführt wird. Die Ansätze im Heft waren sehr gut und im großen und ganzen wusste es zu begeistern! Leider fehlte die Teamvorstellung und so wusste man meist gar nicht mit wem man es zu tun hatte! Auch die vielen Rechtschreibfehler waren nicht unbedingt positiv und störten den Lesefluss. Die grausige Jokerfigur und das nicht sehr gelunge Design, dass an die PLAYERS erinnerte waren nicht sehr optimal! Aber da es die Erstausgabe war, blickten die meisten darüber hinweg und schauten was kommen werde und das hatte es in sich!
PC Joker 04/2003 Team Bewertung:
Copyright © von Joker-Archiv.de
Alle Rechte vorbehalten.

Kategorie
:
PC Joker Media Verlag
Tags
: Keine
Bookmark
: